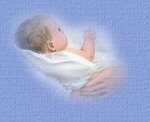 The Greatest Gift Of All
For the wages of sin is death; but
the gift of God is eternal life
through Jesus Christ our Lord.
Romans 6:23
I am amazed, whene'er I think
Of this gift that God did give---
His only Son died in our place;
Jesus died, that we might live.



Jesus was Himself imprisoned,
So that we might be set free;
This innocent man was beaten,
With stripes meant for you and me.



Jesus wore a crown of thorns,
So we might wear a golden crown;
His blood stained His robe crimson red,
That we might wear a pure white gown.



Jesus bore a heavy wooden cross
Up that hill called Calvary;
He was spit upon, and mocked,
But He did it all for you and me.



There on the cross, In misery,
A sword pierced through His side;
When, finally, crying out to God,
This blessed Savior died.



Why did God ever love us so?
To give up His only Son?
We never deserved so great a love,
But He loves us, every one.



Jesus died, for you and me;
A precious gift, so freely given,
That we might have eternal life,
With Him, in the glories of heaven.

© 2003 by Kathryn Brandon; all rights reserved.
This poem is my original work, and may not be
used in any manner without consent. Thank you.

Click Here to Share With A Friend

Please take a moment to sign my Guestbook. Thank you!