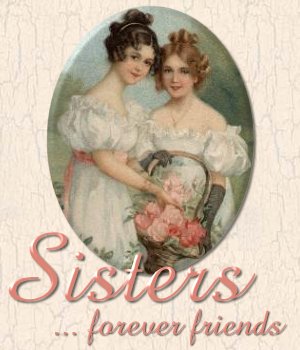 To My Sister
For whosoever shall do the will of my
Father which is in heaven, the same
is my brother, and sister, and mother.
Matthew 12:50
There's no one like my sister,
The greatest friend I've ever had;
She rejoices with me through good times,
And comforts me when I'm sad.





She always knows just how I'm feeling,
She's my dearest, greatest friend.
She'll always be there for me,
On that fact I can depend!





We've been through so much together,
Times we've laughed, and times we've cried.
But we both know that, come what may,
We'll go through life, side by side.





I asked God for a special friend,
Who would love me my whole life through;
And the good Lord truly blessed me,
When He gave me a sister like you!


I Love You, Vicki!
You are truly a blessing to me!




© 2003 by Kathryn Brandon; All rights reserved.
This poem is my original work, and may not be
used in any manner without consent. Thank you.





Click Here to Share With A Friend








I'm so glad you visited today! Please take a moment
to sign my Guestbook while you're here. Thank you!