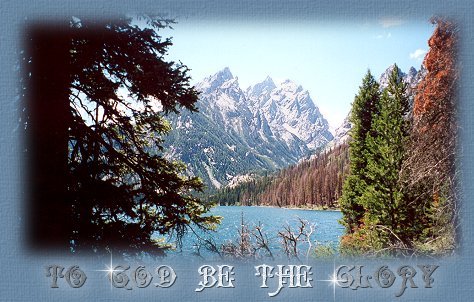 Give God The Glory
This is the day which the
LORD hath made; we will
rejoice and be glad in it.
Psalm 118:24
Great each new day with gladness,
For it is God's gift to you;
Throw wide the windows of your heart,
And let His sunshine through!



Don't waste this day with worry,
Bitterness, regret , or fear,
Yesterday is finished and over,
And tomorrow may never be here.



Don't try to plan the future,
Or dwell on what was in the past ---
Just live today the best you can,
Lest it should be your last.



For each new day's a blessing,
And not promised to us, I fear;
We may not have another day,
Or week, or month, or year.



So don't take life for granted,
But enjoy it while you may---
Give glory to God for His blessings,
And make the most of every day!


(2003 by Kathryn Brandon; all rights reserved.
This poem is my original work, and may not be
used in any manner without
consent
. Thank you.
Click Here To Share With A Friend









I'd love to have you to sign my Guestbook
while you're here. Thank you!