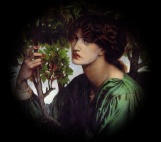 You May Be The One
How then shall they call on
him in whom they have not
believed? and how shall they
believe in him of whom they
have not heard? and how shall
they hear without a preacher?
Romans 10:14
Our days on earth are numbered,
They may be many or few,
But each one is a gift from God,
And He has a plan for you.



Nobody else can take your place
In His great kingdom plan,
To do things only you can do,
To reach out to some poor man.



For you may be the only one
Who can speak to some lost soul;
Yours may be the only words
That can comfort and console.



You may be the only one,
Who can lend a helping hand;
Or you may be the only one,
To listen, and understand.



You may be the one to go
Where no one's gone before;
You may hold the only key
To open some locked door.



Some poor soul might be dying,
His life's race nearly run;
So tell him of the Savior:
You may be the only one.


© 2004 by Kathryn Brandon; all rights reserved.
This poem is my original work, and may not be
used in any manner without consent. Thank you.




Click Here to Share With A Friend