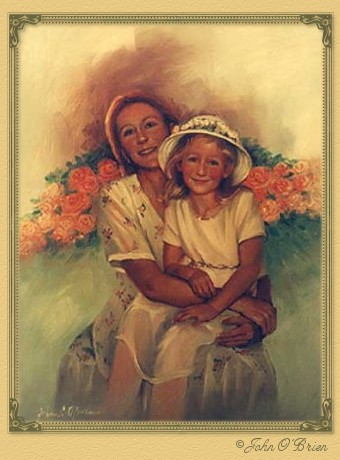 Grandma, Grandma, Grandma
Dedicated with love to my grandchildren:
Leland, Skylar, Rylan, Phoebe, and Liam,
who are the joy of my life. I love you so much!




I'm sitting here just thinking,
In the early evening light,
How I used to get the "Mommy Blues"
Every morning, noon, and night.

It used to almost drive me crazy,
How the kids would call for me,
"Mommy", "Mommy", "Mommy!"
Still rings in my memory.

But now my kids have all grown up,
The youngest lives next door.
They all have children of their own,
I don't hear "Mommy" anymore.

What did I do, for all those years,
While they were little girls and boys?
Oh, yes, I remember now---
I washed diapers and picked up toys,

And washed their faces and combed their hair,
And rescued them from trees,
And found their books, and gloves and shoes,
And taught them their A-B-C's.

I settled fights, and fed the dog,
And so the days and years all passed;
But thinking about all those things now,
I wonder how they went so fast?

But wait - the telephone is ringing,
"Yes, this is Grandma", I say.
"Of course you can spend the weekend -
Come on over right away!"

The screen door bursts wide open,
As they all come rushing in,
"Grandma, it's really cold outside,
Just feel my cheeks and chin!"

"Grandma, can I have some water?"
"Grandma, I hurt my knees."
Grandma, see my report card?
I made all A's and B's!"

"Grandma, I'm getting hungry."
"Grandma, can I watch TV?"
"Grandma, the boys are fighting."
"Grandma, will you play with me?"

No, I don't hear "Mommy" anymore,
Like I did, all those years ago,
Now I'll just be hearing "Grandma"
And it's the sweetest sound I know!



© 2010 by Kathryn Brandon. All rights reserved.
This poem is my own original work, and may not
be copied or used in any way without permission.