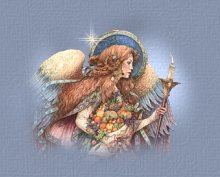 The True Gift
Every good gift and every perfect
gift is from above, and comes down
from the Father of lights, with
whom is no variableness, neither
shadow of turning. James 1:17


A true gift is easily overlooked by some,
But others see it for what it is---
In each sunrise and glorious new day;
In the flowers and fragrances of spring.

It is in the songs the choir sings each Sunday.
It is in the truth, the fire, and the passion
Of the pastor's sermon,
And the way he can bring it to life for us.

It is in the family of my blood,
Who have always been there for me.
It is in the family of Christ's blood,
Who bless me when we meet.

The true gift is the purest
And most precious of all,
God's only Son,
Who died to save us all.

His blood cleanses us of our sins,
Though not all have found Him.
I will let my light shine,
To help them to find Jesus.


© 2003 by Derek Madsen
Used with permission.