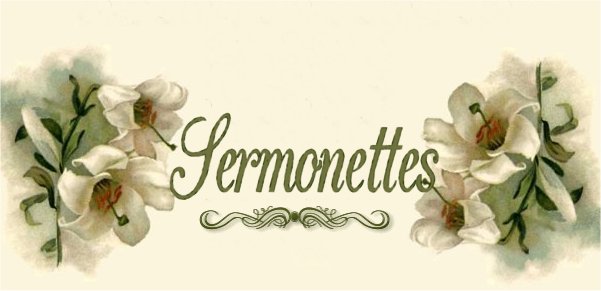 Happy New You!
Therefore if any man be in Christ, he is a new creature: old things are passed away; behold, all things are become new. (II Cor. 5:17)
Nope, that's not a typographical error - Happy New You! If you are in Christ Jesus, the Bible tells us that old things have passed away, and all things have become new! Praise Him for that marvelous blessing! No matter what we were in the past, we are new creaures in Christ! Cleansed from all unrighteousness, made pure and holy in God's sight. What a great way to start the new year!

If you have never taken Jesus as your own personal Lord and Savior, and have never experienced the blessing of being cleansed and made new, there is no better way to start this new year that to receive Him and all the promises of God right now. Don't let another year go by! You have nothing to lose except all the baggage from the past, and everything to gain!

As we begin this new year, remember that all of the storms, all the griefs, all the problems, all the heartaches, and all the disappointments of the past year are just that - PAST. A new year is a new beginning, a time to reflect on the past, and then let go of it. All the trials, all the tears, all the bad things of the past year are over and done, but far too often, we allow past hurts and disappointments to dictate our actions here and now.

We have a choice: We can waste our lives looking backwards, and never be able to enjoy what we have now, or we can choose to move forward, to get over the past and get on with all the good things God has in store for us. Please don't waste today worrying about yesterday. Don't let the past ruin the future.

Determine to start the year with a clean slate. If you have never received Christ into your own heart, that's the place for you to begin. Accept Him as your Lord and Savior, asking Him to forgive your sins and make you new again! And if you have received Him, let your actions show it! Resolve this year to forgive a past grievance, to overlook a past hurt, to show mercy to someone who doesn't deserve it, and love someone who is unlovable. Show the love of God in a very real and meaningful way. After all, talk is cheap. There are many who talk the talk, but few that are willing to humble themselves to walk the walk. May you be one of those who does both.
Only God can turn
a MESS into a MESSage,
a TEST into a TESTimony,
a TRIal into a TRIumph,
& a VICtim into a VICtory!
God is good...all the time!
Yes, Happy New You!!! May this year be filled with the joy of your salvation, with the peace of God that surpasses all understanding, and with all of God's blessings for you and your family!