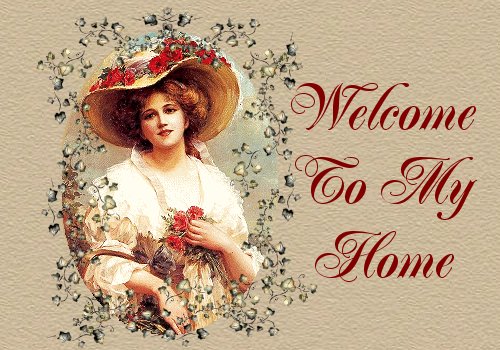 Hello, my friend!
Welcome to my home in cyberspace, "Heaven Awaits". This is an extension of my original website, "Sharing The Word", which I started in January of 2000. Two years later, I finally got my own domain, and am very happy about that!

Let me begin by telling you just a little bit about myself. I am a 60 year old wife, mother, and grandma. I've been married to my wonderful husband for forty-two years now---boy, time sure flies! We have three grown children: David, Robert, and Theresa, and two daughters-in-law, Jan and Kelly. We also have five adorable grandchildren: Leland, Skylar, Rylan, Phoebe, and our newest little darling, Liam. We are so very proud of all of them, and those grandkids are our absolute delight! There's just nothing like having grandkids, is there? They are our pride and our greatest joy in life, and I just can't believe how quickly they are growing up!

As I said, I started my website in January of 2000. I felt very strongly that God's word should be out there on the internet as much as possible. I know He truly enabled me to create my website, because I promise you, I had no earthly idea where or how to even start. I have never had any computer classes or training whatsoever; never even heard of HTML, and was totally overwhelmed at the task I had set for myself. My very first few pages had no music, no graphics, just plain text, because I couldn't figure out how to do any of the things I envisioned. I kept on struggling, and finally my pages started looking and working the way I wanted them to. In fact, I am amazed at what the Lord has enabled me to accomplish! Now I even use Javascript and special effects -- quite a change from my earliest pages!

I truly hope my website glorifies God, and points others to Jesus as Lord and Savior, as that is my goal. I gave my life to Jesus many years ago, and wish to share the gospel with as many people as I can reach, in whatever way I can. You can read my testimony when you've got a moment.

I was a member of Twin Lakes Southern Baptist Church for many years, where I taught Ladies Bible study classes, designed and maintained the church website, and was active in various mission activities. I loved my church family--- they were truly the most loving and caring people I have ever been a part of. They have always been such a blessing to me! We recently moved clear across the country, however, and are now in the process of finding a new church home, where we can continue to serve the Lord.

I have many other interests besides Bible study and my website. I love all the textile arts--- crochet, knitting, embroidery, cross-stitch, and sewing, but crochet is really my favorite. I also enjoy reading, especially historical and/or regency romance novels, but really anything that catches my interest. I love poetry, Shakespeare, and Christian author Max Lucado.

I am also a registered nurse; however, due to health issues, I no longer keep my license up to date. I have worked in both medical and psychiatric hospitals, in a nursing home, and have done private duty nursing. At one time, I had planned to join Traveling Nurse Corps one day, when my husband retired. Plans change, however, and that isn't going to happen, but that's alright.

I have also worked as the director of a Crisis Pregnancy Center, where we try to share the love of God with women who find themselves with unexpected pregnancies. Sometimes the stories we hear are so overwhelming, it's heartbreaking. We let them know that no matter what mistakes or bad choices they've made, God still loves them, and is ready and willing to forgive them and welcome them into His family.

Well, that's enough about me for now. Settle in and enjoy your visit to my website. Take your time browsing through these pages - there's plenty to keep you busy, as I have over 400 pages now. I truly hope they will be a blessing to you.You can begin at my Home Page. Please sign my Guestbook while you're here, and feel free to add your comments. And may the peace and love of the Heavenly Father fill your heart as you visit here!