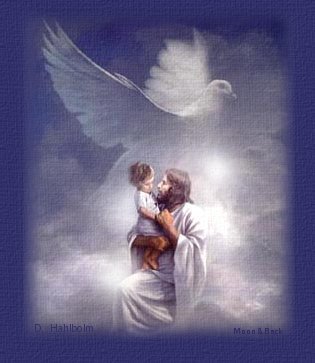 Being Born Again
Jesus answered and said
unto him, Verily, verily,
I say unto thee, Except
a man be born again, he
cannot see the kingdom
of God. John 3:3


As we await the birth of a baby,
With so much ado and fuss,
We ought to stop, and realize:
That's how Jesus waits for us!

Like a woman, deep in labor,
Was the suffering of our Lord;
Such pain, beyond description,
But for such a great reward.

It was for us He did these things,
As He walked upon this earth,
That we might know the love of God,
That we might have new birth.

And like a mother, for her babe,
Her own life would surely give;
That's how Jesus gave His life,
That His dear children might live.

As a mother prepares a baby's room,
He's prepared a place in heaven,
Now anxiously, He waits for us
To receive the gift He's given.

With all the joy of a new parent,
Christ waits for us to make our choice,
And when that "baby" is finally born,
All heaven will sing and rejoice!

Like a precious newborn child,
You'll be free from every sin;
So come to Jesus without delay,
For you must be born again!


© 2005 by Kathryn Brandon; all rights reserved.
The poem is my own original work,and may not be
used in any manner without permission. Thank you.