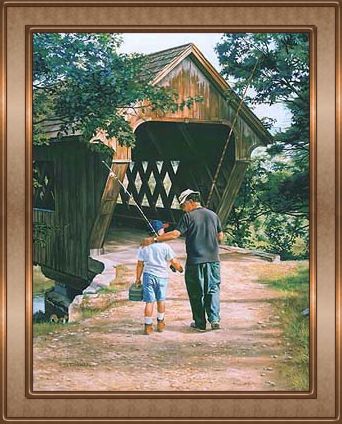 Lo, children are an heritage of the LORD:
and the fruit of the womb is his reward.
As arrows are in the hand of a mighty man;
so are children of the youth.Happy is the
man that hath his quiver full of them.
Psalm 127:3-5(a)
(This poem is dedicated to Pawpaw's boys:
Leland, Rylan, and Liam )
My Pawpaw is so good to me,
'Cause I'm his boy, you know,
An,d I always like to go with him,
Anywhere that he might go.

He takes me to the park, and sits
While I swing and slide and play,
And I go to church with him and Grandma
Each and every Sabbath day.

I help him in the garden,
Planting seeds, and watering, too.
He says I'm his bestest helper -
There's not much that I can't do!

But the thing I like the very best
Is when he gets a fishing pole,
And we go off together,
To his favorite fishing hole.

He baits my hook, and talks to me,
While we wait for fish to bite,
And then he takes it off the line,
And says "We'll fry it up tonight!"

Then after Pawpaw's caught some fish,
It's off to home we go.
And I can't wait till suppertime,
It seems to come so slow!

And when we finally sit to eat,
My Pawpaw says the prayer,
And he says, as he fills my plate,
"That's the one you caught, right there."

My Grandma always cooks so good,
The meal is so delicious!
Then Pawpaw reads a book to me,
While Grandma does the dishes.

And as my eyes get sleepy,
And I start to nod my head,
Pawpaw and me, we say our prayers,
And he tucks me into bed.

And even though I'm all worn out,
From the busy day we shared,
I sleep without a worry
Because I know my Pawpaw's there!


© 2008 by Kathryn Brandon; all rights reserved.
This poem is my original work, and may not be
used in any manner without consent. Thank you.





I'm so glad you visited! Please take a moment
to sign my Guestbook while you're here. Thank you!

These beautiful graphics are courtesy of Designer Lady,
featuring the artwork of Tom Sierak.