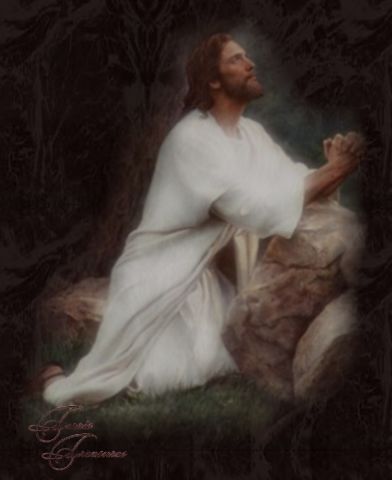 Jesus Prayed

And he said, Abba, Father,
all things are possible
unto thee; take away this
cup from me: nevertheless
not what I will, but what
thou wilt. Mark 14:36


Jesus prayed, alone in Gethsemane;
Three times He prayed, in agony,
He didn't want to go to Calvary.
But He had to die, for you and me.

In the garden there He knelt to pray,
He sweat great drops of blood that day;
He prayed this cup might pass away,
And asked God to find some other way.

And as the moonlight lingered still,
Our Savior prayed and prayed, until
He finally said, "Father, as Thou will";
He knew His blood would have to spill.

For only His blood could pay for sin,
Only His blood could cleanse within;
Only He could redeem lost, sinful men,
And cause them to be born again.

Only His own blood would suffice,
So, after praying twice, and thrice,
Our Savior willingly paid the price,
To save us from death's gripping vice.

He paid the debt to set us free,
And in dying, gained the victory,
For He rose up from the grave, you see,
To live and reign eternally.

Though many just don't understand,
Jesus now sits at the Father's hand;
Salvation is at His command-
Redemption, just as God had planned.

Please come to Him without delay,
For the Bible says: 'Today's the day';
Please don't throw this chance away,
For you may not get another day.

Won't you accept the gift He offers you?
You know His love is sure and true,
And nothing else will see you through.
Just come to Jesus --- I'll wait for you.


© 2004 by Kathryn Brandon; all rights reserved.
This poem is my original work, and may not be
used in any manner without consent. Thank you.





Click Here to Share With A Friend







I'd appreciate it if you'd take a moment to sign
my Guestbookwhile you're here. Thank you!








>