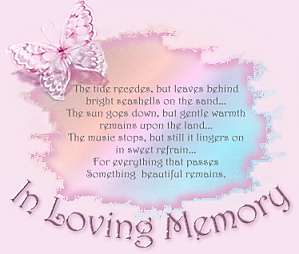 The Long Goodbye
But I would not have you to be
ignorant, brethren, concerning
them which are asleep, that ye
sorrow not, even as others which
have no hope. For if we believe
that Jesus died and rose again,
even so them also which sleep in
Jesus will God bring with him.
1 Thessalonians 4:13- 14

In the stillness of the hospital room,
With our precious mother, so dear,
Our waiting is almost over now,
For the end is drawing near.

We've sat here, helpless, for so long,
Trying to give some small relief,
While death has taken it's time to arrive,
And our hearts are filled with grief.

But we must be glad she will finally be free,
All her pain and suffering will cease;
The end of life is a blessing for her,
For only in death will she find peace.

There's a time to be born, and a time to die,
And we each must face that final test,
So Let us cry for ourselves, but not for her,
As she finds peace in eternal rest.


Lord, we commend our mother into Thy hands,
As from this earth she departs;
Keep her safely within Thy loving arms,
As we keep her within in our hearts.

© 2009 by Kathryn Brandon;
All rights reserved.
This poem is my original work, and may not be
used in any manner without consent. Thank you.




Click Here to Share With A Friend






Thank you for visiting! Please take a moment to
sign my Guestbook while you're here. Thank you!