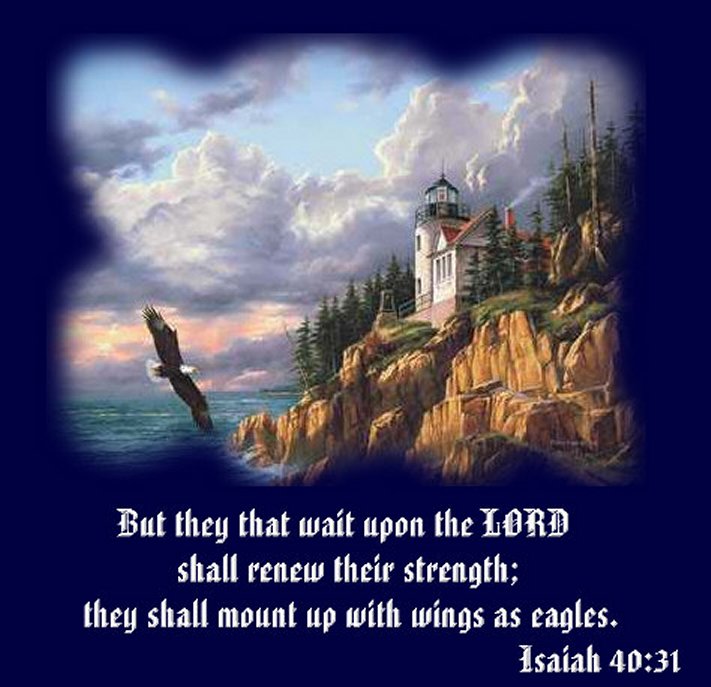 Wait Upon The Lord
But they that wait upon the Lord
shall renew their strength; they
shall mount up with wings as
eagles; they shall run, and not
be weary; and they shall walk,
and not faint. Isaiah 41:31
Seems I'm always in a hurry,
Always rushing to and fro;
There's so many things I have to do,
So many places I must go.

Rushing here and running there,
Always so much stress and strife;
I just can't understand at all
Why God won't bless my life.

I ask Him to, 'most every day,
As I hurry out the door;
But it seems He just won't listen;
He doesn't hear me anymore.

I know I need His help each day,
But I'm so worn out with care,
I'm tired and weary all the time.
Why won't God hear my prayer?

What's that, Lord? What did You say,
In that still, quiet voice?
Life doesn't have to be so hectic?
It's that way by my choice?

You say I'll soar, with wings like eagles,
And my strength You will renew,
I'll run, and not grow weary?
If I just learn to wait on You?

You say I'll run, and not grow tired,
I'll walk strong, not faint and weak?
If I'll only wait upon You,
And listen when You speak?

Oh, Father, please forgive me,
For the things I fail to do:
Help me learn to seek Your will,
And teach me to wait on You!

© 2004 by Kathryn Brandon; all rights reserved.
This poem is my original work, and may not be
used in any manner without consent. Thank you.


~~~~~~~~~~~~~~~~~~~~~~~~~~~~~~~~~~~~~~~~~~


I'm so glad you visited today! Please take a moment
to sign my Guestbook while you're here. Thank you!

~~~~~~~~~~~~~~~~~~~~~~~~~~~~~~~~~~~~~~~~~~







~~~~~~~~~~~~~~~~~~~~~~~~~~~~~~~~~~~~~~~~~~