All around you, people are dying,
Your friends and loved ones so dear---
Why haven't you told them of Jesus?
They desperately need to hear!

They all think they're doing just dandy,
But pride goes before a great fall;
Christ Jesus is their only hope,
Tell them, if you love them at all.

They don't know that their unbelief
Has already made them condemned;
They have to hear about Jesus ---
Why aren't you out there, telling them?

They're lost, and they don't realize
They're sealing their eternal fate;
You need to tell them of Jesus ---
Tell them now, before it's too late!

They're lost! And they don't understand
That Satan has made them enslaved.
Why don't you tell them of Jesus?
Tell them, that their souls may be saved!



© 2003 by Kathryn Brandon; all rights reserved.
This poem is my original work, and may not be
used in any manner without consent. Thank you.




Click Here to Share With A Friend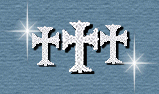 I'd appreciate having you sign my Guestbook
while you're here. Thank you!